ATLAS INCINERATORS A/S VORDINGBORG, Denmark
Oil Sludge and Solid Waste incineration for Installation onboard Ships, for the Offshore Industry and in Power Plants. Atlas Incinerators are designed for simultaneous burning of oil sludge and solid waste. With more than 5,000 units delivered for shipboard or offshore installation, we have an international sales and service organisation serving our customers worldwide.

unselect all/select all
You have 0 products selected
Sludge Oil Tank
Send enquiry
Sludge oil treatment tanks are delivered with a transfer pump and a mill pump for agitation and comminution of the tank contents making it possible to burn oil sludge with up to 50% water content without feeding additional diesel oil to the burners
Diesel Oil Tank
Send enquiry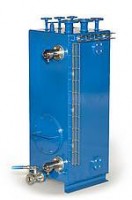 Diesel oil tanks (day oil tanks) are delivered with necessary connections for the incinerator, and with a low-level switch as standard.